Technique and tackle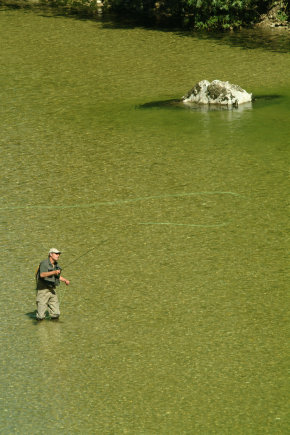 Seeing a fish slowly come up onto the fly, or delicately take the nymph is an outstanding thrill for the fisher.
The water of the Jura's rivers is hard, which makes it wonderfully clear and also helps the growth of the fish. All the casting techniques can be practised depending on the season and water level. From the opening of the season, dry, drowned duns, wet flies, or streamers yield good results on fast streams, but from mid-April onward, sight nymph fishing remains the most exciting tip for sampling fine Mediterranean brown trout in slow waters.
An 8.5 to 10 ft rod for n°4-5 silk will cope with all fishing situations.
A long leader is highly recommended for tricky fish in smooth waters. Any ordinary flies and nymphs will do. The way you cast matters more than what you cast.
The rivers in chalk mountain ranges are crystal clear, so we will currently use small light-coloured dry flies (16-20 hooks) in keeping with the nylon section.

As I mainly practice sight nymph fishing, I use a leader about 7.5m long with a 12 to 8/100 three metre long tail.
For dry fly fishing:
Ducktail, hare's ear, deer hair flies (for fast waters), cream, olive, dirty yellow, etc.
For sight nimph fishing:
The must is a pheasant tail, orange breast, gammarre, various sinking weights to cope with various conditions such as depth or current.