Rivers from March to September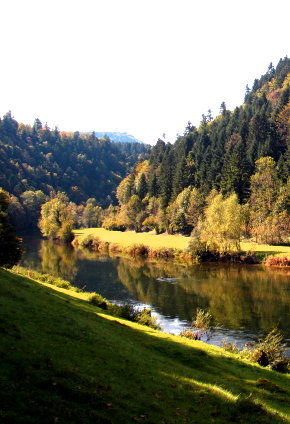 The Jura river network covers an outstanding 1,200 kilometers of first-class rivers, and another 700 kilometers of second-class rivers, plus 10,000 acres of natural lakes and artificial reservoirs (Vouglans lake covering some 6,000 acres of its own).
The fish's growth and behaviour vary from one stream to another. Some rivers offer opportunities from the start of the season for early dry-fly fishing, while others are later sites. That is why we have selected the fishing sites according to season and climate.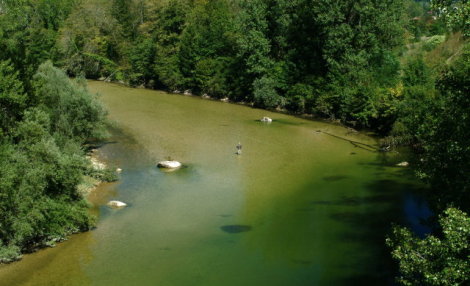 A fishing party in the Bienne Gorges conveys a feeling of mystery.
With its torrent-like current and rocky blocks, this river has painfully dug its bed in a deep valley between Morez and Saint-Claude. There is an abundance of fish but access to the bank is often hard to find. Downstream from Saint-Claude, it widens and calms down before flowing into River Ain.
Major tributaries:
Tacon, Flumen, Logviry.
Mainly for dry-fly and leaded nymph.
A dense population of trout, but physical fitness needed on this tracks.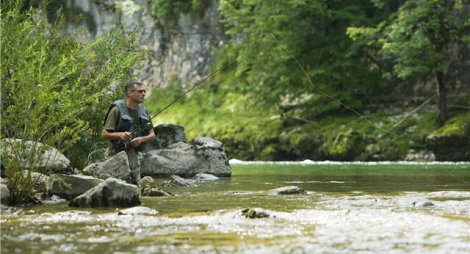 A fly-fishers' favourite, the Upper Ain is appealing with a wide variety of sites from its spring to its merging into Vouglans Lake.
With alterning of fast and slow currents it has a decent size quite near its spring. The Upper Ain is dense with fish.
Several tributaries strengthen the river, and it becomes wider and winds lavishly down across Southern Jura.
Main tributaries
Saine river [ See the gallery ]
Major tributary of the Ain, the Saine is a high gradient stream reappearance. It flows in the stupendous Langouette Gorges before slowing down a few miles and reaching the Ain. A high density of small fish. An interesting river for dry-fly. Very steady whatever the season.
Lemme river
A little winding stream that starts its run through the meadows near the second Jura plateau. Then it speeds down the gorges and flows into the Saine. Mostly small-sized trout.
Hérisson river
A little torrent with a high gradient. The Hérisson Falls are a very popular tourist site. Downstream fishing from Chambly Lake advised.
Sirène river
A little tributary of the Ain, from Clairvaux-les Lacs. Crowded with small fish but overgrown tracks.
Don't forget the lakes for carnivorous fish.
The Franco-Swiss Doubs Valley, Goumois [ See the gallery ]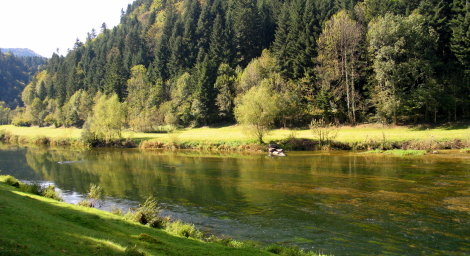 For the beauty of its scenery, the quality, quantity and average size of its zebra trout and char, the Goumois trail is probably one of the finest in Franche-Comté. At the Refrain, at La Goule, or on the Goumois trail, I always have the feeling that this river has something special about it.
Just as on the Upper Ain, the quality of fishing is really outstanding there. Whatever the casting technique, the Franco-Swiss Doubs is a tremendous school for practicing subtle tactics as the fish is particularly hard to lure. But success is all the more rewarding, then!